Running towards a new life, instead of running away from problems

Mira Rai – Trailrunnerin
Empowerment for Girls from Disadvantaged Communities
For girls in Nepal, especially in rural areas, there are few options available to them. They are often forced to leave school early to help with farming, household chores, and childcare, and are frequently married off at a young age. Girls belonging to certain disadvantaged population groups (such as indigenous ethnicities or the Dalit – the "untouchables") are doubly marginalized. They are disproportionately affected by human trafficking, abuse, and a life of poverty. Women and girls in general have limited access to education and training, and there are not many options available to them in the job market.
Our partners
Mira Rai was born in a village in eastern Nepal. As the daughter of poor farmers, her life seemed predetermined for a life of early marriage and farm work. As a teenager, she ran away from home to escape these expectations and joined a guerrilla group as a child soldier. While in the camps in the mountains, she started running and quickly realized she could outrun everyone – men and women alike. When the civil war ended in 2006, she landed in the capital city of Kathmandu. Seeing few prospects in the job market, she planned to leave the country to work in a factory in Malaysia, like so many other Nepalese people. Fortunately, she learned about a race before leaving and promptly won her first ultramarathon. Her talent was discovered, and she began her career as an athlete, ultimately rising to the top ranks of the sport and becoming a role model for girls throughout Nepal. Mira wants to enable other girls and women to follow their dreams and to give them the opportunity to advance both athletically and professionally. That's why she founded the Mira Rai Initiative (MRI) in 2017.
The goal
With our joint project "Ek Paila Agadi" – (a step forward in Nepali) we want to guide disadvantaged girls and women in Nepal towards a better life for . Together with our partners at the Mira Rai Initiative (MRI), we aim to empower these individuals to achieve their full potential through personal, professional, and athletic development.
Our Project:
Our project provides talented female athletes with a nine-month training and scholarship program in Kathmandu. The program is designed to help them build their self-confidence, develop new skills, and gain a sense of direction in their lives. While physical training is an important aspect of the program, it is not the only focus. Participants also receive English language lessons and vocational training to become licensed hiking guides.
Our mission is to create a positive impact on the lives of these girls and women by providing them with the tools they need to succeed. With EcoHimal's support, we are able to provide our participants with a unique opportunity to live and train together with other scholarship recipients, Mira, and her team. By doing so, we create a supportive community where the girls can grow and thrive.
Our ultimate goal is to help these young women become role models in their communities, inspiring others to pursue their dreams and set goals for themselves. By working closely with the trekking industry, we aim to facilitate the girls' transition into the workforce, connecting them with internship and job opportunities. Our hope is that our participants will continue to benefit from our support long after the program has ended.
But our work doesn't stop there. We are committed to helping MRI grow and develop as an organization. Through workshops and capacity building programs, we share our experience in international development to help them improve their processes and strategies. Together, we learn and grow, creating a sustainable partnership that benefits both parties.
At "Ek Paila Agadi," we believe in collaboration based on mutual trust, respect, and a shared vision. We are passionate about improving living conditions, creating opportunities, and learning from one another. Our project is just the first step towards a better future, and we invite you to join us in making a positive impact in the life of girls in Nepal
Celebrating Success: The Conclusion of our Project
We are thrilled to announce the successful completion of our project, which took place between 2021 and 2022. Our dedicated team, along with our partner organization, the Mira Rai Initiative, worked to make this project a success. We are proud to have had the opportunity to empower young women and girls through this initiative.
Our talented athlete, Anita, completed her nine-month training and educational program with flying colors. During this time, she received support from some of our members who actively engaged with her via Zoom to help her improve her English language skills. We are happy that Anita considers her time with us a significant success. She shared her experiences with us, stating, "I learned so much during my time in Kathmandu! The program was diverse and comprehensive, and I particularly enjoyed the training on first aid in the mountains and the personal coaching from Mira."
Anita also participated in four trail running races, and we are thrilled to announce that she even won one of them. We couldn't be happier with Anita's progress and the impact our project had on her life.
Despite this success, we have decided not to support any additional athletes for the time being. However, we will continue to monitor Anita's progress and remain committed to supporting her as she builds a bright future for herself. We are incredibly proud of what we have achieved together and look forward to continuing our work in empowering young women and girls in the future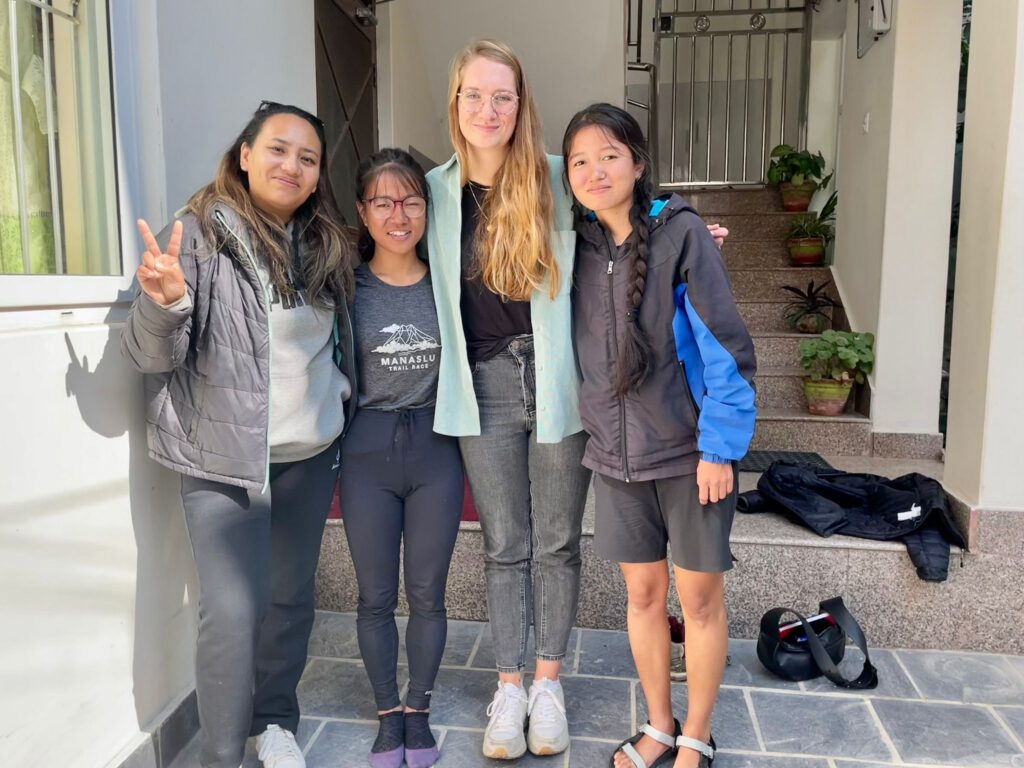 While working with individuals can bring about change and be very effective, we decided to concentrate our efforts now on our project region in Kalikot. We see the opportunity there to reach more people and have a sustainable impact on the communities. However, we remain in contact with Mira and her team and will support her initiative as well as Anita's personal and professional development.
We are extremely proud of Anita's success and grateful for the cooperation with Mira. Thanks to everybody who contributed to this project with donations and other support!